Fairing
The fairing is a set of care and maintenance operations carried out when the ship is out of water, it allows the cleaning of the hull and the elimination of marine organisms followed by the application of an antifouling paint. The fairing not only helps to improve the aesthetic appearance of the hull, but also to optimize the performance of the boat and save fuel. It is also an opportunity to inspect all the living works, to change the zinc anodes and possibly carry out repair work (renovation of the gelcoat, change of the hydrolube ring, repair of the shaft or propeller … etc.).
Out of the water and into the water tank
The first step is to take the boat out of the water and secure it on cradles. The availability of the dock, the travellift and the handling team allows this operation to be carried out quickly and safely.
High pressure cleaning of the submarine
As soon as the boat comes out of the water, the hull (also called underwater) must be cleaned with high pressure in order to remove all the concretions, algae that have formed from the waterline to under the keel.
Antifouling
Application of the antifouling on the clean and dry hull. The shipyard offers several brands of antifouling and will advise you according to your sailing programme (erodible, hard matrix, copercoat ….).
Propeller antifouling
The propeller, the base or the shaft line must also be treated with a specific antifouling. There are many solutions and once again the Shipyard provides you with the right advice.
FAIRING TEAM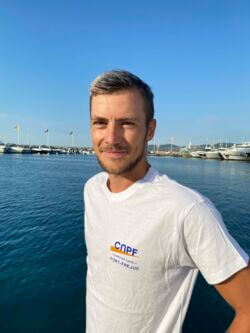 Mathieu BONNEAU-BARROIS
Fairer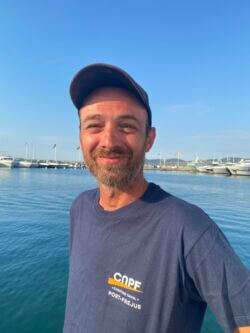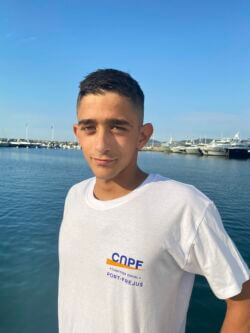 Select the size of your boat:
| | |
| --- | --- |
| Name | Price |
| Lifting-wedging | 105,00 € |
| Launching | 66,15 € |
| High pressure washing of live works | 59,85 € |
| 1-layer antifouling pack | 477,75 € |
| 2-layer antifouling pack | 575,40 € |
| Suspension in the straps (max. 2h) | 130,20 € |
| Lifting-wedging | 136,50 € |
| Launching | 96,60 € |
| High pressure washing of live works | 75,08 € |
| 1-layer antifouling pack | 574,35 € |
| 2-layer antifouling pack | 719,25 € |
| Suspension in the straps (max. 2h) | 173,25 € |
| Lifting-wedging | 156,45 € |
| Launching | 112,35 € |
| High pressure washing of live works | 80,85 € |
| 1-layer antifouling pack | 672,00 € |
| 2-layer antifouling pack | 845,25 € |
| Suspension in the straps (max. 2h) | 213,15 € |
| Lifting-wedging | 179,55 € |
| Launching | 124,95 € |
| High pressure washing of live works | 95,55 € |
| 1-layer antifouling pack | 838,95 € |
| 2-layer antifouling pack | 1 046,85 € |
| Suspension in the straps (max. 2h) | 237,30 € |
| Lifting-wedging | 218,40 € |
| Launching | 137,55 € |
| High pressure washing of live works | 108,15 € |
| 1-layer antifouling pack | 1 021,65 € |
| 2-layer antifouling pack | 1 276,80 € |
| Suspension in the straps (max. 2h) | 262,50 € |
| Lifting-wedging | 247,80 € |
| Launching | 159,60 € |
| High pressure washing of live works | 138,60 € |
| 1-layer antifouling pack | 1 185,45 € |
| 2-layer antifouling pack | 1 483,65 € |
| Suspension in the straps (max. 2h) | 312,90 € |
| Lifting-wedging | 318,68 € |
| Launching | 186,38 € |
| High pressure washing of live works | 160,65 € |
| 1-layer antifouling pack | 1 386,00 € |
| 2-layer antifouling pack | 1 731,45 € |
| Suspension in the straps (max. 2h) | 361,73 € |
| Lifting-wedging | 370,65 € |
| Launching | 228,38 € |
| High pressure washing of live works | 196,35 € |
| 1-layer antifouling pack | 1 610,70 € |
| 2-layer antifouling pack | 2 019,15 € |
| Suspension in the straps (max. 2h) | 436,80 € |
| Lifting-wedging | 438,90 € |
| Launching | 267,75 € |
| High pressure washing of live works | 216,30 € |
| 1-layer antifouling pack | 1 880,55 € |
| 2-layer antifouling pack | 2 352,00 € |
| Suspension in the straps (max. 2h) | 517,13 € |
| Lifting-wedging | 489,30 € |
| Launching | 302,40 € |
| High pressure washing of live works | 252,53 € |
| 1-layer antifouling pack | 2 122,05 € |
| 2-layer antifouling pack | 2 680,65 € |
| Suspension in the straps (max. 2h) | 577,50 € |
| Lifting-wedging | 571,20 € |
| Launching | 376,95 € |
| High pressure washing of live works | 273,53 € |
| 1-layer antifouling pack | 2 302,65 € |
| 2-layer antifouling pack | 2 879,10 € |
| Suspension in the straps (max. 2h) | 633,15 € |
| Lifting-wedging | 667,80 € |
| Launching | 438,90 € |
| High pressure washing of live works | 310,80 € |
| 1-layer antifouling pack | 2 720,55 € |
| 2-layer antifouling pack | 3 404,10 € |
| Suspension in the straps (max. 2h) | 747,60 € |
| Lifting-wedging | 748,65 € |
| Launching | 457,80 € |
| High pressure washing of live works | 344,40 € |
| 1-layer antifouling pack | 3 219,30 € |
| 2-layer antifouling pack | 4 020,45 € |
| Suspension in the straps (max. 2h) | 845,78 € |
| Lifting-wedging | 820,05 € |
| Launching | 478,80 € |
| High pressure washing of live works | 408,98 € |
| 1-layer antifouling pack | 3 715,43 € |
| 2-layer antifouling pack | 4 642,05 € |
| Suspension in the straps (max. 2h) | 920,85 € |
| Lifting-wedging | 922,95 € |
| Launching | 534,45 € |
| High pressure washing of live works | 459,90 € |
| 1-layer antifouling pack | 4 176,38 € |
| 2-layer antifouling pack | 5 257,35 € |
| Suspension in the straps (max. 2h) | 1 024,28 € |
| Lifting-wedging | 1 075,20 € |
| Launching | 622,65 € |
| High pressure washing of live works | 506,10 € |
| 1-layer antifouling pack | 4 958,10 € |
| 2-layer antifouling pack | 6 149,64 € |
| Suspension in the straps (max. 2h) | 1 207,50 € |
| Lifting-wedging | 1 185,45 € |
| Launching | 700,35 € |
| High pressure washing of live works | 556,50 € |
| 1-layer antifouling pack | 5 578,65 € |
| 2-layer antifouling pack | 6 648,08 € |
| Suspension in the straps (max. 2h) | 1 334,03 € |
| Lifting-wedging | 1 334,03 € |
| Launching | 777,00 € |
| High pressure washing of live works | 627,90 € |
| 1-layer antifouling pack | 6 043,80 € |
| 2-layer antifouling pack | 7 251,30 € |
| Suspension in the straps (max. 2h) | 1 479,45 € |
Parking
High season

(March 1 to August 31 )

Low season

(Sept. 1 to Feb 28 )

Day
16,01 €
9,98 €
Week
95,03 €
49,35 €
Month
-
201,08 €
Parking
High season

(March 1 to August 31 )

Low season

(Sept. 1 to Feb 28 )

Day
23,10 €
11,03 €
Week
131,25 €
59,85 €
Month
-
241,50 €
Parking
High season

(March 1 to August 31 )

Low season

(Sept. 1 to Feb 28 )

Day
29,93 €
14,70 €
Week
173,25 €
79,80 €
Month
-
310,80 €
Parking
High season

(March 1 to August 31 )

Low season

(Sept. 1 to Feb 28 )

Day
35,18 €
16,80 €
Week
212,10 €
97,13 €
Month
-
382,20 €
Parking
High season

(March 1 to August 31 )

Low season

(Sept. 1 to Feb 28 )

Day
42,00 €
18,90 €
Week
255,68 €
114,45 €
Month
-
453,08 €
Parking
High season

(March 1 to August 31 )

Low season

(Sept. 1 to Feb 28 )

Day
49,61 €
23,10 €
Week
296,63 €
131,78 €
Month
-
519,75 €
Parking
High season

(March 1 to August 31 )

Low season

(Sept. 1 to Feb 28 )

Day
59,85 €
25,73 €
Week
347,29 €
152,25 €
Month
-
609,00 €
Parking
High season

(March 1 to August 31 )

Low season

(Sept. 1 to Feb 28 )

Day
68,25 €
28,88 €
Week
392,70 €
173,25 €
Month
-
696,68 €
Parking
High season

(March 1 to August 31 )

Low season

(Sept. 1 to Feb 28 )

Day
77,18 €
32,55 €
Week
438,90 €
194,25 €
Month
-
775,95 €
Parking
High season

(March 1 to August 31 )

Low season

(Sept. 1 to Feb 28 )

Day
82,95 €
35,70 €
Week
495,08 €
214,73 €
Month
-
853,65 €
Parking
High season

(March 1 to August 31 )

Low season

(Sept. 1 to Feb 28 )

Day
88,20 €
39,38 €
Week
546,00 €
232,05 €
Month
-
925,05 €
Parking
High season

(March 1 to August 31 )

Low season

(Sept. 1 to Feb 28 )

Day
100,28 €
42,53 €
Week
603,75 €
257,25 €
Month
-
1 026,90 €
Parking
High season

(March 1 to August 31 )

Low season

(Sept. 1 to Feb 28 )

Day
108,15 €
46,73 €
Week
656,25 €
282,98 €
Month
-
1 132,95 €
Parking
High season

(March 1 to August 31 )

Low season

(Sept. 1 to Feb 28 )

Day
118,13 €
50,40 €
Week
713,48 €
307,13 €
Month
-
1 229,03 €
Parking
High season

(March 1 to August 31 )

Low season

(Sept. 1 to Feb 28 )

Day
130,20 €
56,70 €
Week
791,70 €
343,35 €
Month
-
1 374,45 €
Parking
High season

(March 1 to August 31 )

Low season

(Sept. 1 to Feb 28 )

Day
143,33 €
63,53 €
Week
862,05 €
380,10 €
Month
-
1 518,83 €
Parking
High season

(March 1 to August 31 )

Low season

(Sept. 1 to Feb 28 )

Day
154,35 €
69,83 €
Week
946,05 €
414,75 €
Month
-
1 663,20 €
Parking
High season

(March 1 to August 31 )

Low season

(Sept. 1 to Feb 28 )

Day
166,43 €
78,75 €
Week
1 071,53 €
493,50 €
Month
-
1 806,53 €