SHIPYARD
The Port-Fréjus Shipyard brings together on the same geographical site ideally located on the Côte d'Azur all the infrastructures and teams dedicated to the boating professions. At the service of boaters, agents, builders and professionals.
MATERIALS AND EQUIPMENT
Travelift 75t., Mobile crane 40t. …
Equipped with a travelift with variable width, new and modern, 75 tons with staggered beam (ideal for sailboats, does not require the dismantling of pataras) a mobile crane of 40T and 32m boom for masting and dismasting, an autonomous trailer of 50T, CNPF is the ideal space for grounding, handling, annual maintenance and antifouling of their ships.
Darse, Dock, Gas Station, Shipchandler …
CNPF has a dock 6.10 m wide by 3.50 m draft, a reception dock with 14 places dedicated to customers, an AVIA service station 24 hours a day, on 35m linear dock, allowing refueling. With its shipchandler store of 150 m², its second store under the banner "Accastillage diffusion" very busy and its dynamic and competent teams. CNPF is an ideal technical area offering an integral service to boaters and professionals. Equipped with a tank for the recovery of fairing sludge that has been drained and reprocessed regularly, CNPF is a shipyard that controls and minimizes its impact on the environment.
DEDICATED TEAMS
In order to offer you the best service, the Port-Fréjus Shipyard is structured in a team dedicated to the different professions of boating: rigging, painting, fairing, mechanics, handling, composite, administration and after-sales service.
ORGANISATION
Our organization and our work tools make it possible to ensure you a listening, the establishment of clear and fast quotes, a budget follow-up, a planning taking into account the hazards (weather, supplies …). Communication and listening throughout the project ensure the most complete satisfaction.
BUDGETING AND CONTROL OF COSTS AND DEADLINES
The follow-up maintenance of your sailboat or motor boat is the best guarantee for safety on the one hand and to retain all its value on the other hand. It is therefore necessary to plan routine maintenance and major maintenance (dormant and current rigging, heat exchangers, aeroscrub, hydrolube ring, saildrive or shaft seal …..). To do this, it is necessary to define as precisely as possible the multi-annual budget in order to control costs. The Port-Fréjus Shipyard, relying on its extensive experience, advises you and ensures you a precise follow-up.
ADMINISTRATIVE AND MANAGEMENT TEAM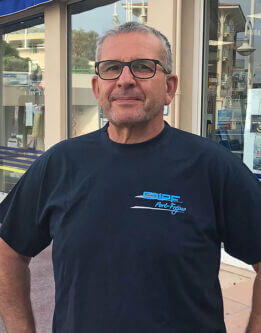 René-Pierre MAGNE
Direction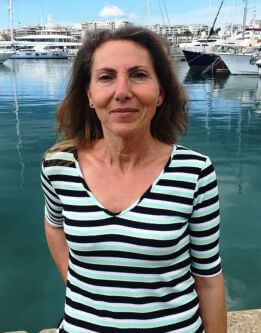 Marie-Thérèse GERMANÒ
Administrative and commercial management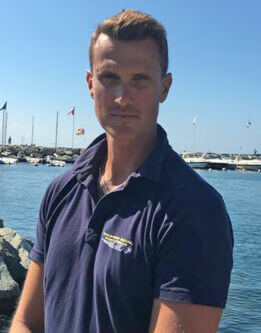 Boris NECTOUX
Operations Manager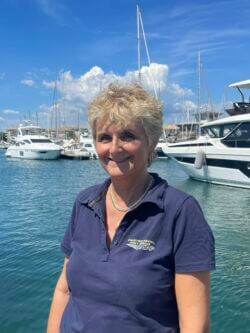 Patricia BRUNEL
Administrative and accounting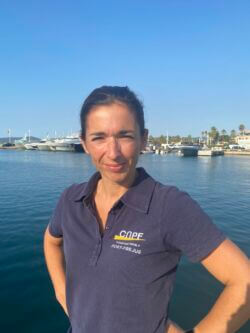 Select the size of your boat:
| | |
| --- | --- |
| Name | Price |
| Lifting-wedging | 105,00 € |
| Launching | 66,15 € |
| High pressure washing of live works | 59,85 € |
| 1-layer antifouling pack | 477,75 € |
| 2-layer antifouling pack | 575,40 € |
| Suspension in the straps (max. 2h) | 130,20 € |
| Lifting-wedging | 136,50 € |
| Launching | 96,60 € |
| High pressure washing of live works | 75,08 € |
| 1-layer antifouling pack | 574,35 € |
| 2-layer antifouling pack | 719,25 € |
| Suspension in the straps (max. 2h) | 173,25 € |
| Lifting-wedging | 156,45 € |
| Launching | 112,35 € |
| High pressure washing of live works | 80,85 € |
| 1-layer antifouling pack | 672,00 € |
| 2-layer antifouling pack | 845,25 € |
| Suspension in the straps (max. 2h) | 213,15 € |
| Lifting-wedging | 179,55 € |
| Launching | 124,95 € |
| High pressure washing of live works | 95,55 € |
| 1-layer antifouling pack | 838,95 € |
| 2-layer antifouling pack | 1 046,85 € |
| Suspension in the straps (max. 2h) | 237,30 € |
| Lifting-wedging | 218,40 € |
| Launching | 137,55 € |
| High pressure washing of live works | 108,15 € |
| 1-layer antifouling pack | 1 021,65 € |
| 2-layer antifouling pack | 1 276,80 € |
| Suspension in the straps (max. 2h) | 262,50 € |
| Lifting-wedging | 247,80 € |
| Launching | 159,60 € |
| High pressure washing of live works | 138,60 € |
| 1-layer antifouling pack | 1 185,45 € |
| 2-layer antifouling pack | 1 483,65 € |
| Suspension in the straps (max. 2h) | 312,90 € |
| Lifting-wedging | 318,68 € |
| Launching | 186,38 € |
| High pressure washing of live works | 160,65 € |
| 1-layer antifouling pack | 1 386,00 € |
| 2-layer antifouling pack | 1 731,45 € |
| Suspension in the straps (max. 2h) | 361,73 € |
| Lifting-wedging | 370,65 € |
| Launching | 228,38 € |
| High pressure washing of live works | 196,35 € |
| 1-layer antifouling pack | 1 610,70 € |
| 2-layer antifouling pack | 2 019,15 € |
| Suspension in the straps (max. 2h) | 436,80 € |
| Lifting-wedging | 438,90 € |
| Launching | 267,75 € |
| High pressure washing of live works | 216,30 € |
| 1-layer antifouling pack | 1 880,55 € |
| 2-layer antifouling pack | 2 352,00 € |
| Suspension in the straps (max. 2h) | 517,13 € |
| Lifting-wedging | 489,30 € |
| Launching | 302,40 € |
| High pressure washing of live works | 252,53 € |
| 1-layer antifouling pack | 2 122,05 € |
| 2-layer antifouling pack | 2 680,65 € |
| Suspension in the straps (max. 2h) | 577,50 € |
| Lifting-wedging | 571,20 € |
| Launching | 376,95 € |
| High pressure washing of live works | 273,53 € |
| 1-layer antifouling pack | 2 302,65 € |
| 2-layer antifouling pack | 2 879,10 € |
| Suspension in the straps (max. 2h) | 633,15 € |
| Lifting-wedging | 667,80 € |
| Launching | 438,90 € |
| High pressure washing of live works | 310,80 € |
| 1-layer antifouling pack | 2 720,55 € |
| 2-layer antifouling pack | 3 404,10 € |
| Suspension in the straps (max. 2h) | 747,60 € |
| Lifting-wedging | 748,65 € |
| Launching | 457,80 € |
| High pressure washing of live works | 344,40 € |
| 1-layer antifouling pack | 3 219,30 € |
| 2-layer antifouling pack | 4 020,45 € |
| Suspension in the straps (max. 2h) | 845,78 € |
| Lifting-wedging | 820,05 € |
| Launching | 478,80 € |
| High pressure washing of live works | 408,98 € |
| 1-layer antifouling pack | 3 715,43 € |
| 2-layer antifouling pack | 4 642,05 € |
| Suspension in the straps (max. 2h) | 920,85 € |
| Lifting-wedging | 922,95 € |
| Launching | 534,45 € |
| High pressure washing of live works | 459,90 € |
| 1-layer antifouling pack | 4 176,38 € |
| 2-layer antifouling pack | 5 257,35 € |
| Suspension in the straps (max. 2h) | 1 024,28 € |
| Lifting-wedging | 1 075,20 € |
| Launching | 622,65 € |
| High pressure washing of live works | 506,10 € |
| 1-layer antifouling pack | 4 958,10 € |
| 2-layer antifouling pack | 6 149,64 € |
| Suspension in the straps (max. 2h) | 1 207,50 € |
| Lifting-wedging | 1 185,45 € |
| Launching | 700,35 € |
| High pressure washing of live works | 556,50 € |
| 1-layer antifouling pack | 5 578,65 € |
| 2-layer antifouling pack | 6 648,08 € |
| Suspension in the straps (max. 2h) | 1 334,03 € |
| Lifting-wedging | 1 334,03 € |
| Launching | 777,00 € |
| High pressure washing of live works | 627,90 € |
| 1-layer antifouling pack | 6 043,80 € |
| 2-layer antifouling pack | 7 251,30 € |
| Suspension in the straps (max. 2h) | 1 479,45 € |
Parking
High season

(March 1 to August 31 )

Low season

(Sept. 1 to Feb 28 )

Day
16,01 €
9,98 €
Week
95,03 €
49,35 €
Month
-
201,08 €
Parking
High season

(March 1 to August 31 )

Low season

(Sept. 1 to Feb 28 )

Day
23,10 €
11,03 €
Week
131,25 €
59,85 €
Month
-
241,50 €
Parking
High season

(March 1 to August 31 )

Low season

(Sept. 1 to Feb 28 )

Day
29,93 €
14,70 €
Week
173,25 €
79,80 €
Month
-
310,80 €
Parking
High season

(March 1 to August 31 )

Low season

(Sept. 1 to Feb 28 )

Day
35,18 €
16,80 €
Week
212,10 €
97,13 €
Month
-
382,20 €
Parking
High season

(March 1 to August 31 )

Low season

(Sept. 1 to Feb 28 )

Day
42,00 €
18,90 €
Week
255,68 €
114,45 €
Month
-
453,08 €
Parking
High season

(March 1 to August 31 )

Low season

(Sept. 1 to Feb 28 )

Day
49,61 €
23,10 €
Week
296,63 €
131,78 €
Month
-
519,75 €
Parking
High season

(March 1 to August 31 )

Low season

(Sept. 1 to Feb 28 )

Day
59,85 €
25,73 €
Week
347,29 €
152,25 €
Month
-
609,00 €
Parking
High season

(March 1 to August 31 )

Low season

(Sept. 1 to Feb 28 )

Day
68,25 €
28,88 €
Week
392,70 €
173,25 €
Month
-
696,68 €
Parking
High season

(March 1 to August 31 )

Low season

(Sept. 1 to Feb 28 )

Day
77,18 €
32,55 €
Week
438,90 €
194,25 €
Month
-
775,95 €
Parking
High season

(March 1 to August 31 )

Low season

(Sept. 1 to Feb 28 )

Day
82,95 €
35,70 €
Week
495,08 €
214,73 €
Month
-
853,65 €
Parking
High season

(March 1 to August 31 )

Low season

(Sept. 1 to Feb 28 )

Day
88,20 €
39,38 €
Week
546,00 €
232,05 €
Month
-
925,05 €
Parking
High season

(March 1 to August 31 )

Low season

(Sept. 1 to Feb 28 )

Day
100,28 €
42,53 €
Week
603,75 €
257,25 €
Month
-
1 026,90 €
Parking
High season

(March 1 to August 31 )

Low season

(Sept. 1 to Feb 28 )

Day
108,15 €
46,73 €
Week
656,25 €
282,98 €
Month
-
1 132,95 €
Parking
High season

(March 1 to August 31 )

Low season

(Sept. 1 to Feb 28 )

Day
118,13 €
50,40 €
Week
713,48 €
307,13 €
Month
-
1 229,03 €
Parking
High season

(March 1 to August 31 )

Low season

(Sept. 1 to Feb 28 )

Day
130,20 €
56,70 €
Week
791,70 €
343,35 €
Month
-
1 374,45 €
Parking
High season

(March 1 to August 31 )

Low season

(Sept. 1 to Feb 28 )

Day
143,33 €
63,53 €
Week
862,05 €
380,10 €
Month
-
1 518,83 €
Parking
High season

(March 1 to August 31 )

Low season

(Sept. 1 to Feb 28 )

Day
154,35 €
69,83 €
Week
946,05 €
414,75 €
Month
-
1 663,20 €
Parking
High season

(March 1 to August 31 )

Low season

(Sept. 1 to Feb 28 )

Day
166,43 €
78,75 €
Week
1 071,53 €
493,50 €
Month
-
1 806,53 €